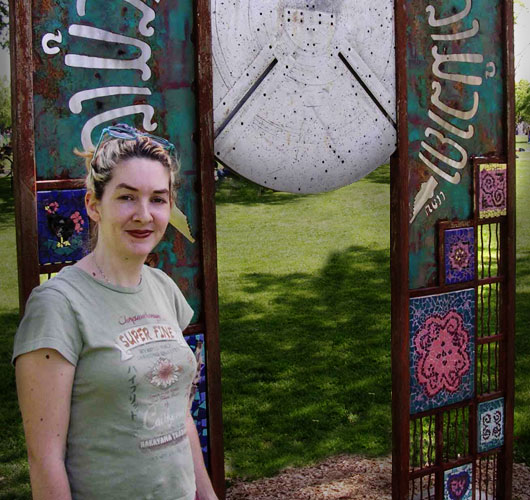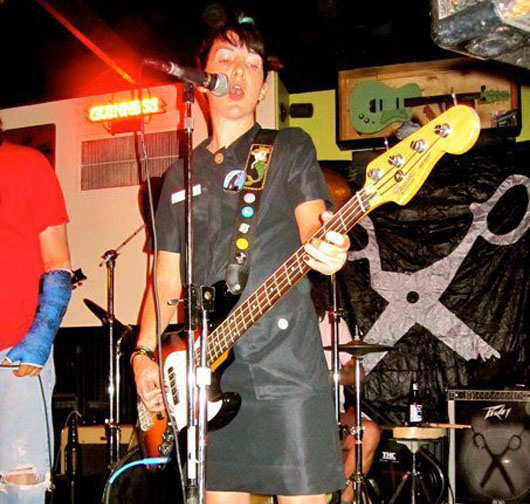 Robin Indar
was born in Fairfax, California, the youngest daughter of a free-spirit mom and an underground cartoonist father. She began making art at an early age, working in every imaginable media until settling (mostly) into creating original, often functional works in mosaic and ceramic sculpture. Robin studied art at CCAC in Oakland California, Vista College, Berkeley, and California State University at Chico.
For several years she fronted Black Fork, a Bay Area punk band who toured the U.S. several times and put out an LP and several 7″ records. Now she's picked up bass guitar and plays and sings for Severance Package with her husband Josh on guitar.
Her list of completed projects includes public art, such as the large mosaic animal sculptures at Malibu Legacy Park, in Malibu California and the colorful mosaic sea serpent at Caper Acres kids park in Chico. She also does residential remodeling, mosaic portraiture, and has been working on a special no-sharp-edges style of mosaic she calls "whole-saic" which utilizes only whole tiles for a smooth surface. At home she is busy smoothing and cutting her own line of handmade tile, called Rebel Tiles. She currently lives in Chico with her writer/musician husband and their two boisterous young boys.